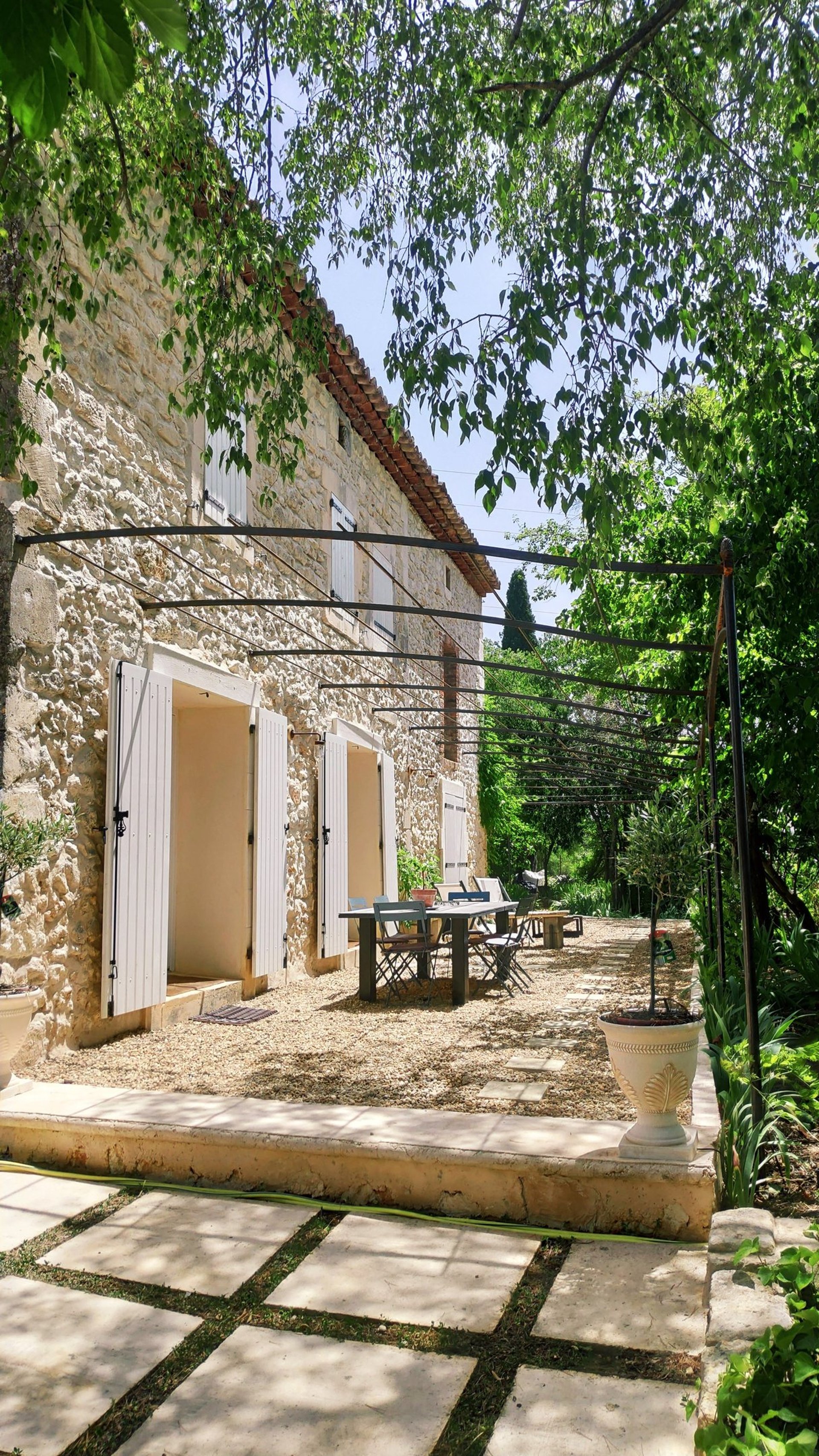 A real silkworm farm lovingly restored by two Franco-Australian artists, in the small village of Navacelles, between Provence and Cévennes, in Occitania.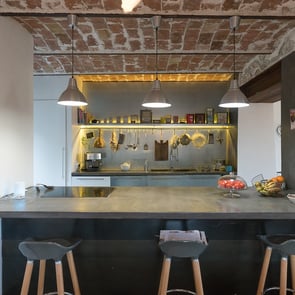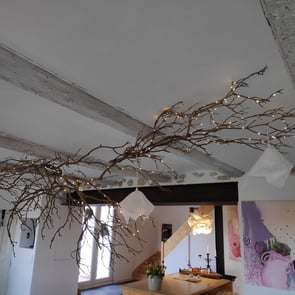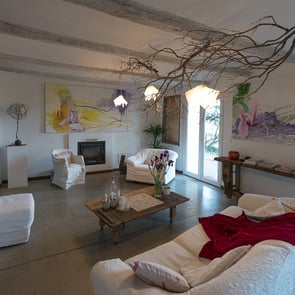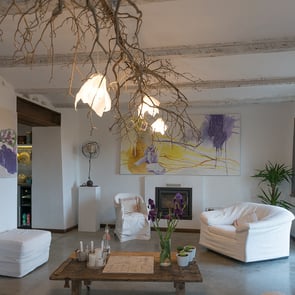 The house is an old stone silkworm farm, which had been abandoned for 19 years until your hosts fell in love with it and the renovation began in September 2016
As much as possible, the old features have been retained, including the magnificent 'voutins', a succession of vaulted ceilings throughout the house. The spaces were completely opened up with large exposed steel beams and a new polished concrete floor was poured, giving the old farmhouse a whole new life.The ground floor is now a fully open plan kitchen, living and dining room. The large kitchen workbench lends itself to gourmet cooking and the long table and benches provide the perfect setting to enjoy the table d'hôtes option. The kitchen opens onto a large back patio perfect for breakfast in the morning sun. The living room is bathed in light with three French doors opening onto the west-facing front terrace, where you can enjoy a drink while watching the sunset before dinner.
Our artists have the choice between two types of accommodation...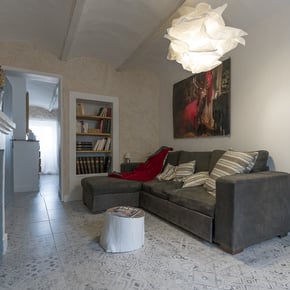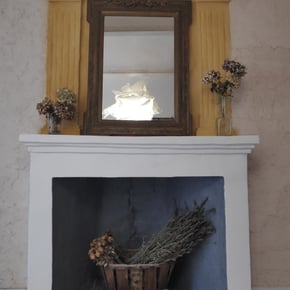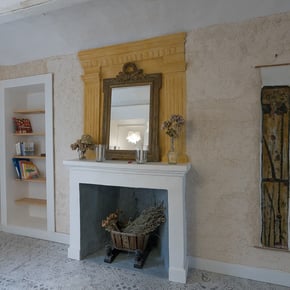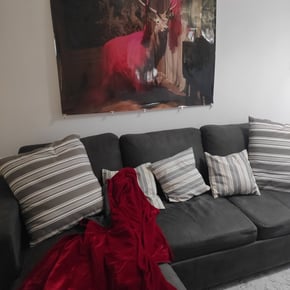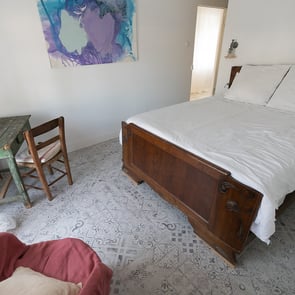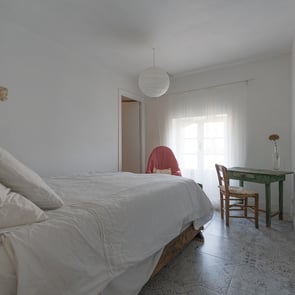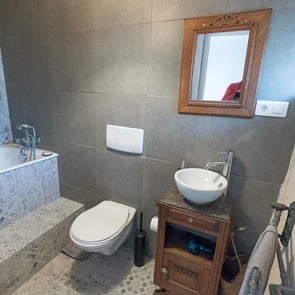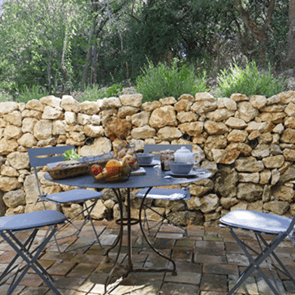 La Chambre de Séraphin
This room dedicated to single artists who want to be pampered as it includes all three meals.
Oriented to the north, it is a very fresh room, full of light and looking over a courtyard and the sculpture studio. Furnished with vintage pieces, it has a double bed, bedside tables and lamps, and a small sitting area with its own writing desk. Vintage concrete tiles make for a cool floor in the heat of summer. There is also a large walk-in wardrobe to store your belongings and suitcases out of your way during your sojourn.
La Chambre de Séraphin is indeed a charming, very quiet and inviting environment for a siesta to rest, read, write or simply meditate! This room also has its own private en-suite bathroom. Fitted with a vintage 'baignoire sabot' (a sit-in half bath), in which you can soak or have a shower (or both!) Vintage concrete tiles cover the floor and walls and a tiny window, recently reopened after decades being bricked in, lets the light in and provides a breeze throughout! This bedroom is adjoined by a delightful little quiet space with a comfortable couch/sofa.Meals at the Residency
All three meals are included for the artist choosing to reside in La Chambre de Séraphin. Local and seasonal ingredients are sourced regularly to be able to provide you with delicious meals, many based on specialties of the Gard and nearby Provence, often accompanied by fresh salads and deserts. Breakfasts offer a choice of home-mixed muesli, eggs and toast, and the obligatory morning coffee on the terrace comes with croissants or pains au chocolat.
You will certainly not starve and will be well prepared for your days of creativity!! The other obligatory daily event is the "apero" and that, together with the wine accompanying dinner, will ensure you have a relaxing and fun evening and a good night's sleep.
L'Appartement de Séraphin
In 2022, we officially opened our second accommodation option within La Magnanerie de Séraphin. This self-contained apartment is available for artists coming on their own or for an artist coming with another artist partner or a non-artist partner who want the freedom of a self catering option.
Please note that the bedroom is equipped with a queen size bed only, i.e: the bed is to share between 2 people!
It has an ensuite bathroom including toilet, shower, wash basin and plenty of bench space. The gourmet kitchen is fully equipped with fridge, freezer, microwave oven, full size oven, hotplates, coffee machine, etc etc….. The living room and kitchen are separate from the bedroom and open up onto the terrace and the garden. Outside, there are deck chairs and dining table and chairs to enjoy your meals "al fresco" if the weather permits.