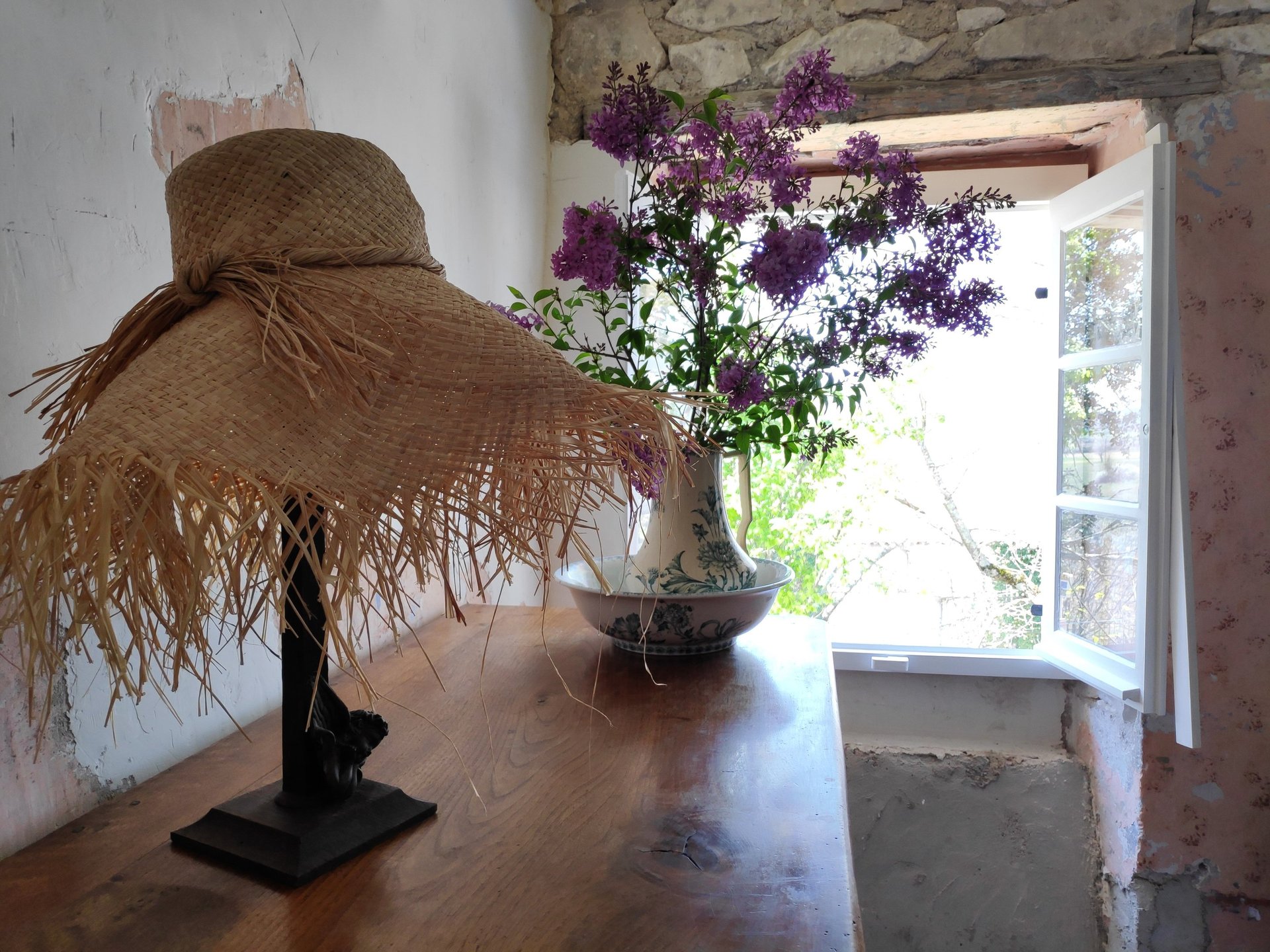 Read the latest from
our Blog
Back in sunny Australia during the 2022/2023European winter....
After close to 3 years away from Sydney, thanks to COVID travel restrictions, we finally made it back to Sydney, just in time for the opening of the new wing of our beloved Art Gallery of NSW.
This splendid, world class, new glass building is hosting part of the existing AGNSW collection but also a lot of newly commissioned work sand an extraordinary display of aboriginal new artworks.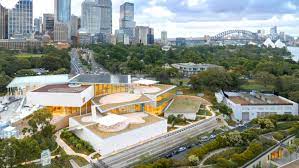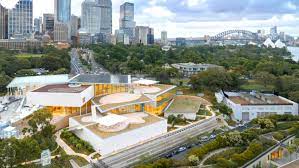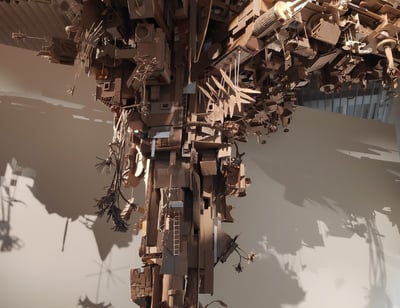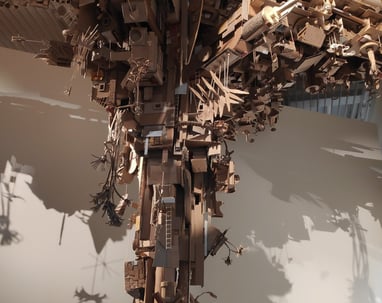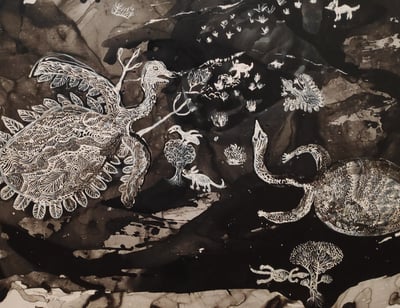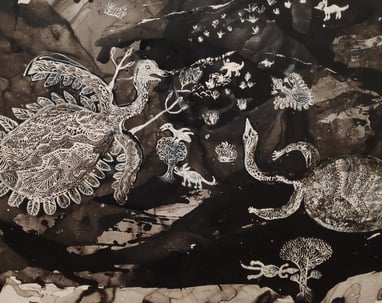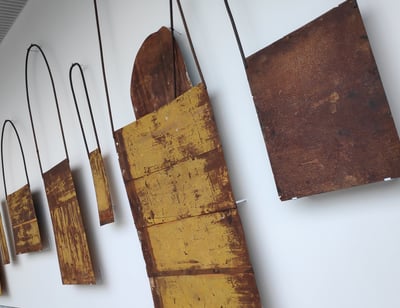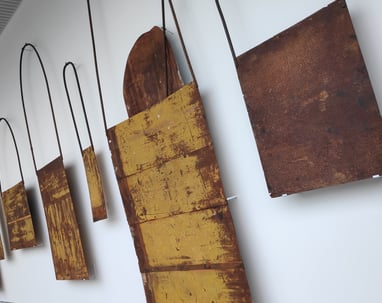 September 2022
In September 2022, my husband and I had a memorable 3 weeks stay at La Magnanerie de Seraphin in Navacelles. Our accommodation was private in the Appartement de Seraphin, with a beautiful ambiance. Our artist/hosts Kristine and Geoff anticipated every need including delicious meals, croissants and coffee. The gardens, the pastoral views of the magnificent Cevennes and the sunsets were an inspiration. The studio, set in a barn, was spacious and provided a great working space. As an artist I was able to work at my own pace and the environment gave me both the physical and mental space to explore many concepts. Kristine and Geoff were very supportive and made themselves available for mentoring and advice. I was able to take some works to completion and others will form the basis of further work and exploration. For artists, there are many resources available within half an hour drive (for example stationery, printing, art supplies, book and fabric shops etc ). There are also many places of interest nearby including Nîmes and Uzès. And of course, Rocky the doggie and "concierge" was an added bonus.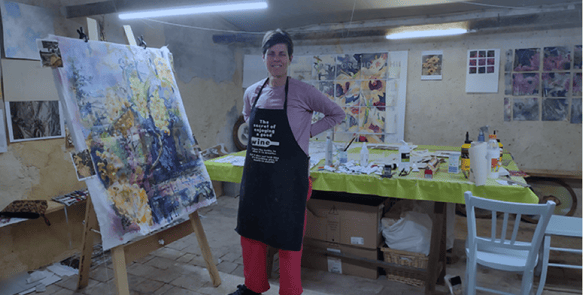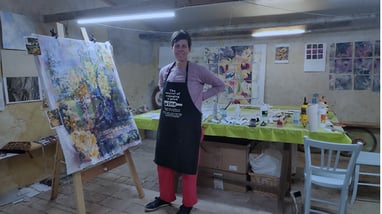 Introducing Thérèse, our artist from Australia
Introducing Elva, our Icelandic artist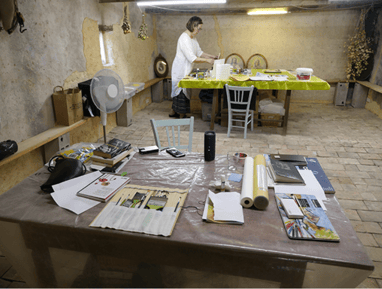 August 2022
Late July 2022, we welcomed Icelandic artist, Elva Hreidarsdottir, for a 2 weeks residency at La Magnanerie de Seraphin. She was accompanied by her graphic designer /writer husband, Halldor. They had chosen the option to stay in our newly opened self-contained apartment, "L'Appartement de Seraphin" located within the building of our magnanerie, so that they would be able to prepare their own meals and keep a more independent life. They had also opted to rent a car and this way they were able to do their own food shopping and to explore the many touristic spots our area has to offer.
Elva's testimonial :
My residency at La Magnanerie de Seraphin in Navacelles was quite good. My husband and I arrived at the end of July for two weeks and it was quite hot during our stay, at least for us coming from Iceland. Kristine and Geoff are extremely kind and helpful hosts and we had many nice evenings with them, chatting about art and more. The self-contained flat, where we stayed, the studio and their home are really great and beautiful. We can see that Kristine and Geoff have put their heart and soul in this project. The area around Navacelles is inspiring and quite beautiful.
Introducing Christina, our first artist in residence coming from Denmark
April 2022
Here is my testimonial of my 2 week artist residency at La Magnanerie de Seraphin. Even though my train was very late, Kristine and Geoff still had no problem waiting for me and I was met at the Alés's station where they picked me up, in their original 2CV. My 2 weeks have been formed by a mixture of my plan from home and all the inputs and talks I have had with Kristine and Geoff. With Geoff, I could pull on his knowledge as a curator and fellow visual artist and with Kristine I was invited to join her walks with local French ladies who knew several places that were of interest specifically to me and my inspiration for water. I have used my time to dig into my thoughts surrounding my art. I have tested colours and new sounds for my videos and had time to think about how to go about my next solo exhibition. During the residency mealtime, talks with Kristine and Geoff have been filled with knowledge, and exchanges of ideas. We have had evening video sessions, talking about and analysing our respective video works, looked at previous exhibitions and works and even talked about where to go from here. Geoff and Kristine live an interesting life. They have travelled the world and have had several exhibitions in the East, Australia and France. The surroundings are fantastic – there are mountains, beautiful small towns and the residency is amazing, a small piece of heaven for an artist. I didn't use the studio, but have used my little desk in my room when working on the computer. However, the living room, the garden and the studio are all for use – they have opened up the whole house for their artists.
http://www.christinalundqvist.com https://www.instagram.com/christinamajlundqvist/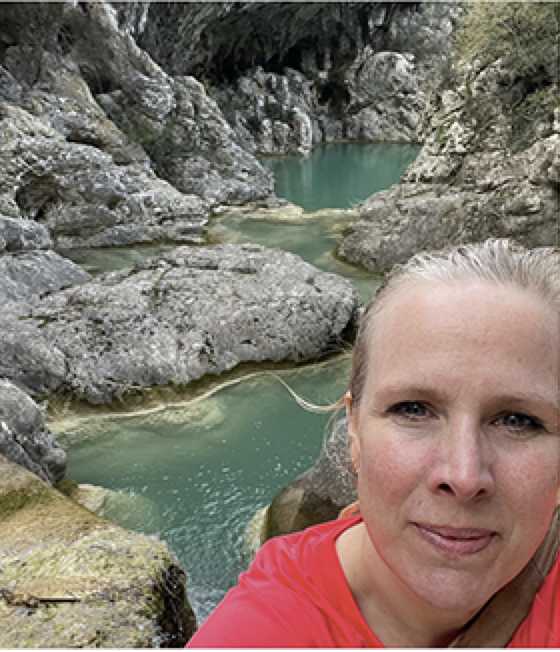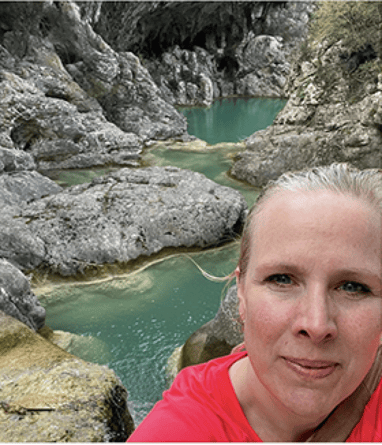 New and additional accommodation option
Spring 2022
In 2022, we officially opened our second accommodation option within La Magnanerie de Seraphin. This self-contained apartment (L'Appartement de Seraphin) is available for artists coming on their own or for an artist coming with another artist partner or a non-artist partner who want the freedom of a self catering option. Please note that the bedroom is equipped with a queen size bed only, i.e: the bed is to share between 2 people! It has an ensuite bathroom including toilet, shower, and plenty of bench space. The gourmet kitchen is fully equipped with fridge, freezer, microwave oven, full size oven, hotplates, coffee machine, etc etc…..The living room and kitchen are separate from the bedroom and open up onto the terrace and the garden. Outside, there are deck chairs and dining table and chairs to enjoy your meals "al fresco" if the weather permits.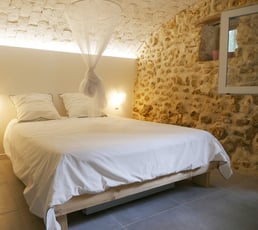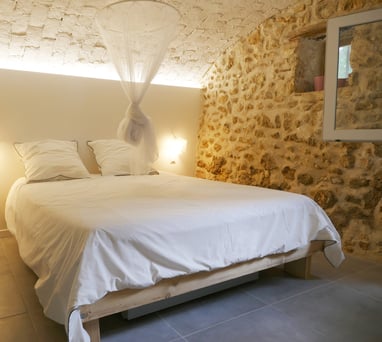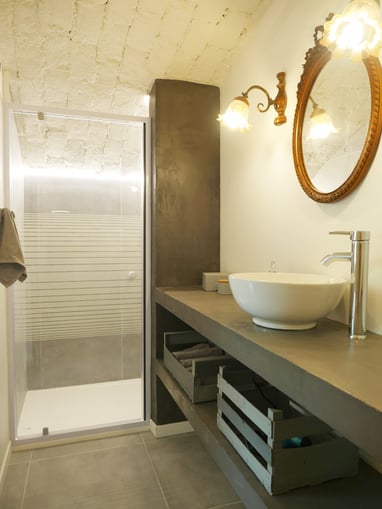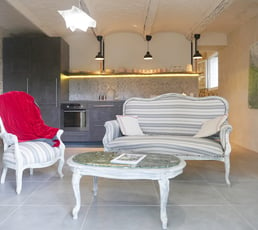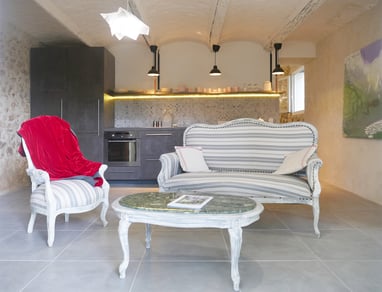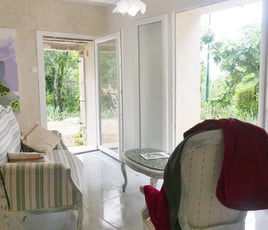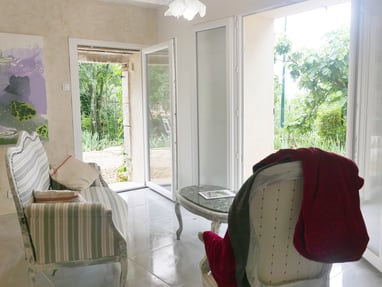 Spring 2020
After two months of COVID enforced confinement, lots of hard landscaping labor and lots of love, a secret hidden spot at the back of La Magnanerie de Seraphin was born. It is now a feast for the senses. The veggie patch is providing us everyday with fresh lettuces, strawberries aplenty, spinach and lots more, and, of course, lots of Provencal aromatic herbs! And there is no better place to be on a hot summer afternoon for a siesta than in the hammock, after a refreshing soaking in our "small" pool (despite the fact that most people would refer to it as a tub!)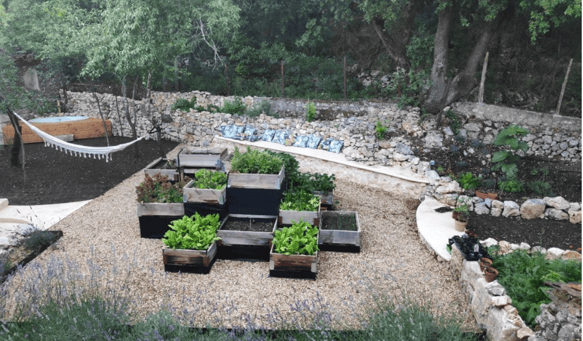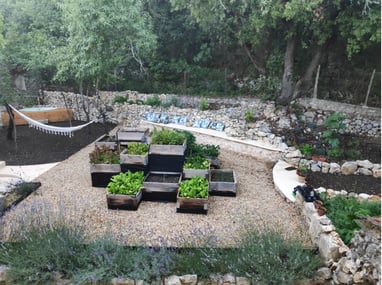 February 2020
During the time we were in Australia, Mother Nature wasted no time and welcomed us back with lots of flowers in the garden!
Spring is upon La Magnanerie de Seraphin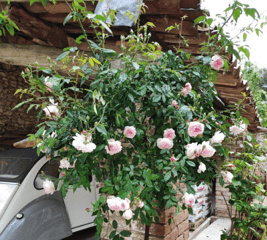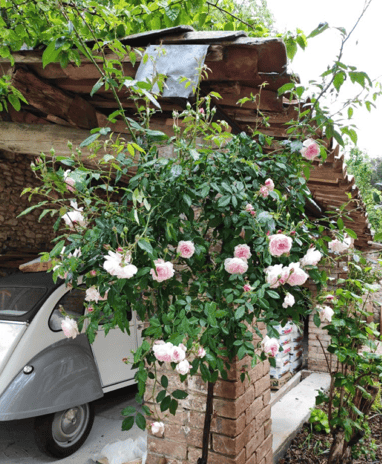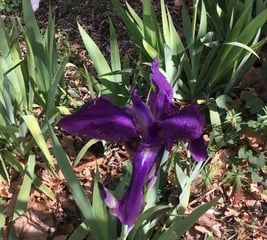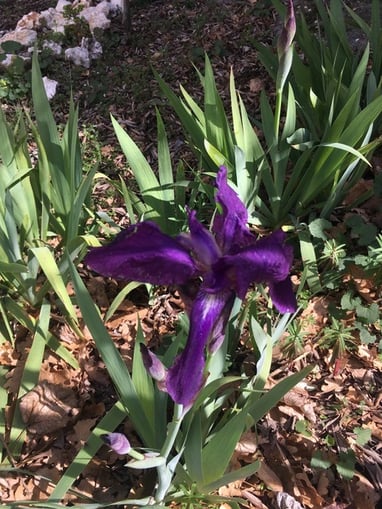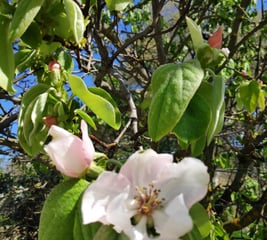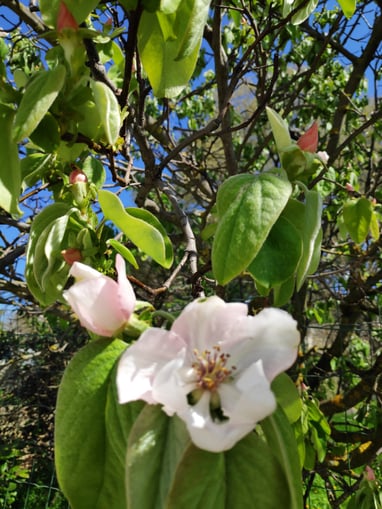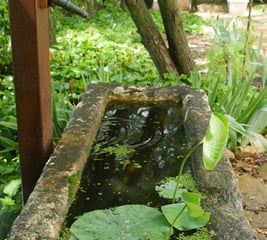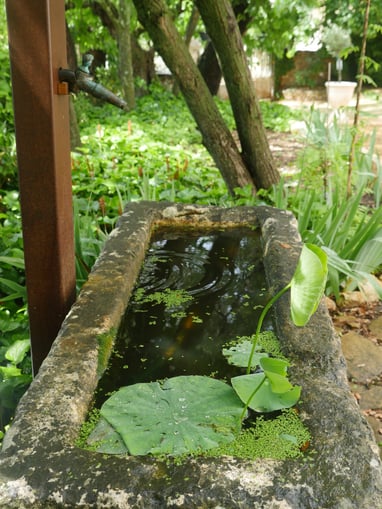 "Apero" time around the fire pit!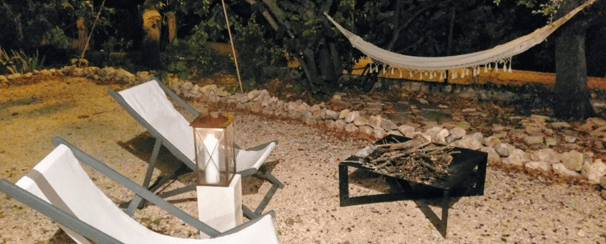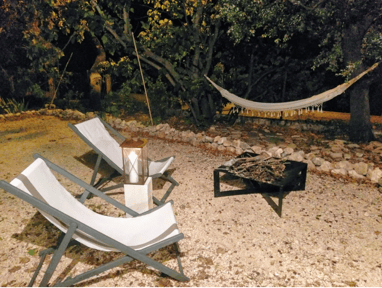 October 2019
Autumn at la Magnanerie de Seraphin is a great season, blessed with warm long days . However, when comes the evening, there is nothing better than sitting in a deck chair – or lying in the hamac – by the fire pit on the west facing terrace to sip a local "rosé" watching the sun going down on the Cevennes : another of Mother Nature great works of art!
Autumn has settled at la Magnanerie de Seraphin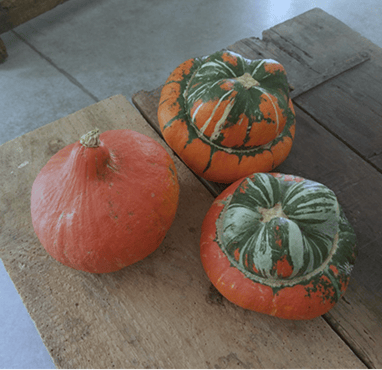 September 2019
Autumn has settled at la Magnanerie de Seraphin with its load of rusty colours in the garden and the sounds of activity in the vineyards. The local crop of pumpkins which landed in our lounge coffee table back in October is a work of art in itself with its flamboyant shapes and hues.
New studio awaiting the artists in residence
Summer 2019
La Magnanerie de Seraphin old barn has been converted into two large studio spaces. On the second floor is a light-filled large studio space reserved for our artists in residence.
Depending on the artist needs, we will supply table, chairs and easels.
Separately, in the garage there is also a sculpture studio.